For this project we converted theme designer Jefferson Eliot's striking Photoshop layouts into a web site.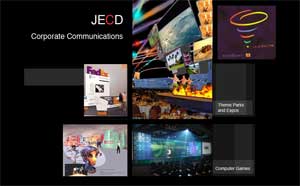 Tom began working in digital design and web site development with this company and this was his first professional website design.
JECD specialized in the creation of virtual spaces and actual places that mesh state-of-the-art design, special effects, stories, themes and architecture.
In themed attractions,  JECD developed concepts for theme parks, urban entertainment centers, attractions and restaurants for Golden Harvest Films in Singapore and Hong Kong.
For Children's Television Workshop ( now Sesame Workshop ) JECD developed show concepts and a masterplan for a Sesame Street theme park.
Other clients include Universal Studios (for various attraction concepts) and Mitsubishi Heavy Industries (for an indoor waterpark).
Eliot co-designed (with David Kellen Architect)  Shanghai & Mein, a Chinese restaurant at Universal Citywalk.
For the Museum of the Cherokee Indian, Eliot wrote and designed (for Technifex inc.) a short computer animated movie that tells the story of the Cherokee creation myth.
Eliot designed and wrote an attraction for the German pavilion at Expo Hanover 2000 (for Technifex) that amusingly dramatized ideas for change in the German economy using Pepper's Ghost Technology and computer animated characters.
In 2000, Eliot was Creative Director for FreakinBrilliant.com, a web site for teens.
Prior to incorporating JECD, Eliot worked with  Landmark Entertainment Group Inc. as Chief Concept Designer and Executive Art Director. He designed attractions, major theme park concepts and mixed-use developments, including a masterplan for a multi-billion dollar park for Warner Brothers and another for Coney Island.
He art directed a $40 million redesign of a streamline moderne riverboat on the Mississippi river, leading a design team that included HOK.  Eliot founded Myriad Shows Inc. to produce a Cabaret show independently for the riverboat.
He designed and art directed extensively in Japan on two theme parks for Sanrio: PuroLand and HarmonyLand. Eliot designed the staging  and  visual effects (large Pepper's Ghost Technology) for the Ghostbusters show at Universal Studios, Florida.
His responsibilities at Landmark ranged from site planning, architectural design, show design and scripting to leading design teams, production and on-site art direction, interior and furniture design.
Eliot started in theme park design at Walt Disney Imagineering, working on Tokyo Disneyland and the Horizons pavilion at Epcot.
In Corporate communications, JECD designed trade show booths for Ricoh (in Tokyo), FedEx, Cineon (a division of Kodak), and Technifex (which won 'Best of Show' at the 1999 IAAPA, the international theme park convention.
Eliot also designed sets and effects for various Cisco conferences (produced by Brainstorm Creative).
In computer game design Eliot was Creative Director at Activision. JECD designed and produced the art and animation for edutainment games for McGraw Hill Home Interactive.
In television, Eliot was Production Designer on Shelley Duvall's Faerie Tale Theatre, a groundbreaking Showtime cable series, and Director of Visual Effects on Captain Power & The Soldiers of the Future, the world's first interactive TV series (1988).